Genes for degradation and utilization of uronic acid-containing polysaccharides of a marine bacterium Catenovulum sp. CCB-QB4
by Go Furusawa, Nor Azura Azami and Aik-Hong Teh

Uronic acids, which are a class of sugar acids, were contained in polysaccharides produced by animals (heparin), terrestrial plants (pectin), seaweed (alginate and ulvan), and bacteria (gellan gum). Oligosaccharides from uronic acid-containing polysaccharides are known to have many useful bioactivities. For instance, alginate oligosaccharides stimulate the growth of human endothelial and keratinocytes cells. In addition, the oligosaccharides also promote the growth and root elongation of rice and barley. Pectin oligosaccharides (POS) have probiotic effects through the improvement of bifidobacteria and lactobacillus.
Recently, polysaccharide lyases and glycoside hydrolases have attracted attention because of their ability to generate oligosaccharides by digesting the polysaccharides. In this study, a marine bacterium, Catenovulum sp. CCB-QB4, was capable of using uronic acid-containing polysaccharides, namely pectin, alginate, ulvan, and gellan gum, for its growth. This result indicated that the strain has the potential for a source of novel genes for degrading the polysaccharides. In fact, eight alginate lyases, seven pectate lyases, two polygalacturonases, fourteen ulvan lyases were found in the genome of CCB-QB4. Besides, genes involved in uronic acid metabolisms were also present in the genome. To the best of our knowledge, this is the first report about bacterium that can use four different uronic acids-containing polysaccharides. Results of this study indicate that CCB- QB4 will become a source of novel uronic acid-degrading enzymes.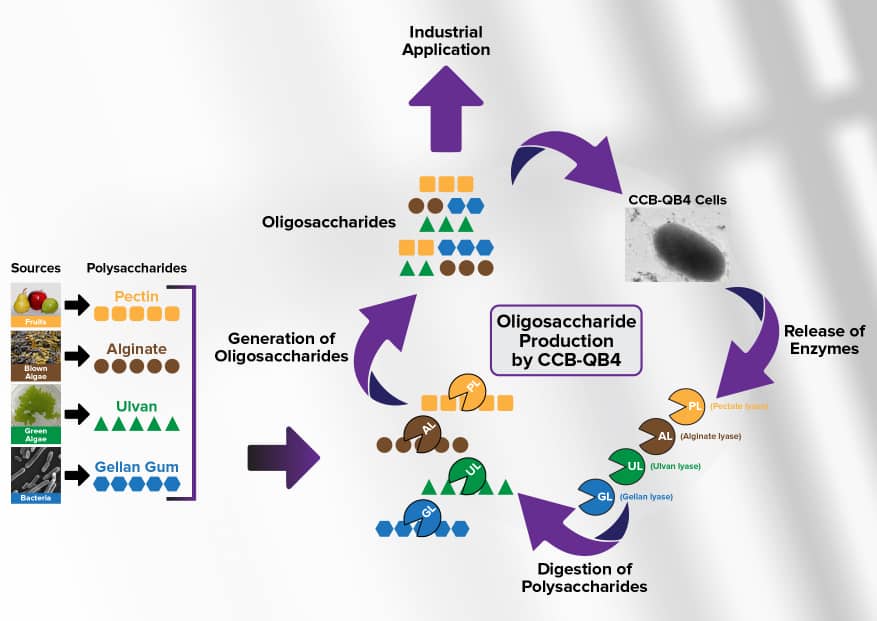 Full Link: DOI 10.7717/peerj.10929


CCB Ref: 2021_RH_1_gf
Date : 21/06/2021